Signori lettori, sono ufficialmente aperte le votazioni per il miglior mod/total conversion del 2010, che come al solito si tengono su ModDB:
http://www.moddb.com/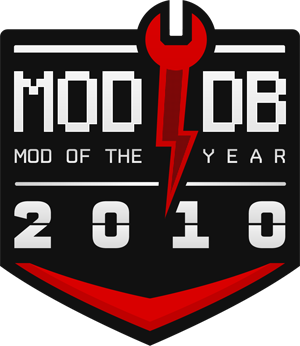 Riportiamo per interezza la news direttamente dalla fonte:
http://www.moddb.com/events/2010-mod-of-the-year-awards/news/welcome-to-the-moty-2010
What is Mod of the Year?
Mod of the Year is ModDB's award show that rewards excellence in modding and all related fields. The MOTY's have been around since 2002 where Natural Selection took away the first Mod of the Year award. The way the big title gets handed out has changed over the years however one thing remains constant and that is the winners truly deserve the title, continuing on to do great.

What is new and what is different in the MOTY 2010?

This year we have changed how the event works just a tad, for one Indies and Mods now have their own separate awards and events so ModDB and IndieDB now both have a award show to call their very own. The other exciting new feature is the change from the well established "Editors Choice" to the brand new "Panels Choice" which for the first time has a handful of press judges casting votes on both the Mods and Indies of 2010 that they think deserve the awards. It's something the ModDB/IndieDB staff have wanted to do for quite sometime, you can see all the judges who are involved over at the judges page.
Votate numerosi!